Optimise office space
Are you running out of space in your office? Find out more about our range of solutions to complement your business expansion. From office space optimisation to new office space and document storage solutions, improve efficiency in your premises with Companeo Agreed Suppliers.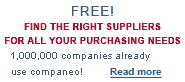 Each step for your project :
Optimise office space
The perfect solution to stop spending time looking for documents! This is also the answer to all your storage problems! All volumes of archives can be scanned to your preferred format: invoices, plans, microfilms...opt for a scanning service to improve your business efficiency and free some precious office space!
Once your documents have all been scanned to your favourite soft copy format, you can easily access them and manage them with an online storage and management solution. With a single login and password your documents can now follow you all around the world.
A simple optimisation of your office configuration can help you free space for your employees and documents. Finding the right size and structure for your desktops or workstations can help you save precious space to insert new filing cabinets where your employees can arrange their files. As well as saving space it helps improve business efficiency by reducing time spent looking for documents. And if you still feel like you need more space in your office, try our range of racking and shelving suppliers.
Is your business expanding rapidly? Do you feel like you've reached maximum optimisation for your current office space? Find the office space matching your requirements! Whether for document storage or employees relocation, find a new office or storage space according to your needs and let professionals take care of the removal.