INVOICE FINANCE:
Stop Chasing your Invoices & Focus on GROWING your Business!
Get Quotes from the UK's Leading
Invoice Finance Providers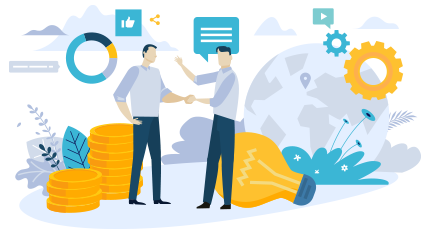 Factoring: What are the costs of invoice factoring?
Reading time: 2 mins
Because invoice factoring is borrowing money already tied up in an asset, it is a risk-free way of unlocking instant cash for your business. You can enjoy the peace of mind of knowing that a factoring agreement isn't going to end up dragging your company into debt, so compared to many types of loan, it is a secure transaction. But there are fees and charges to be paid, naturally, meaning you won't receive the full value of your invoices.

Costs of typical factoring arrangements
Factoring rates will depend on the type of contract you enter (and different companies structure their factoring charges in slightly different ways), but you can expect to get back around 80-90% of the invoices you sell.
Factoring costs for start-ups: Setting up a factoring deal can usually be achieved very quickly. But it is important to remember that you may be subject to a start-up or retro charge which is based on the gross value of your debtor book. This factoring cost varies, but is usually around 1%. It is worth trying to negotiate on this arrangement fee.
Transaction fees: per-transaction costs are usually very low.
Invoice discounting costs: are the charges applied to how much you borrow. It comprises the base interest rate (make sure you always check what this rate is) plus the percentage commission charged by the factoring company. This is essentially a charge on the service being offered and is applied to your company's gross turnover. There may be a minimum service fee applied.
Termination costs: may be issued if you want to break your agreement early, or if by the end of the contract your business hasn't taken out as much funding as was anticipated. Remember to check this in the small print.
Credit insurance service fees: Most factors will offer a non-recourse factoring contract which means they take on the risk of unpaid debts and don't charge this back to you. This will cost extra.
It is worth remembering the enormous benefits associated with invoice financing, which far outweigh the factoring fees: saving time by not chasing payments, predictable income, improved cash flow and flexible contracts are all standout benefits.
Choosing the right factoring company
As with all business contracts, read the small print thoroughly before signing. Make sure all factoring charges, fees and percentages are clearly laid out at the outset of the factoring agreement. This will ensure you are not hit with any hidden fees or commissions. Search for a reputable, UK-based factoring company with a strong reputation, long trading history and good customer reviews.