INVOICE FINANCE:
Stop Chasing your Invoices & Focus on GROWING your Business!
Get Quotes from the UK's Leading
Invoice Finance Providers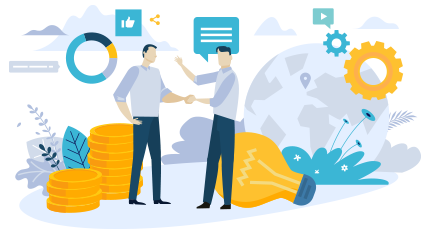 Factoring: Best UK factoring companies
Reading time: 3 mins
If your business sells to commercial customers, you may be able to benefit from a process known as invoice factoring. This is where a company sells its invoices to a third party, who gives you the money up front and then chases payment on your behalf. This works because the money owed is a business asset.

There are two types of factoring companies to choose from: many high street banks offer business factoring services (although you do not have to choose the same bank that handles your other financing needs) or you can opt for a specialised factoring company instead.
Invoice factoring services from best UK banks
These high street banks provide invoice products and are worth investigating for their professional and flexible offerings:
Lloyds TSB factoring service is available to any company with an annual turnover of at least £50,000 and is especially suitable for start-ups or growing businesses. They offer a 6-month, no-obligation trial.
RBS were named the Invoice Finance Bank of the Year in a 2012 poll and are one of the UK's largest and most trusted invoice finance companies, offering a beneficial link between invoice finance and business banking.
Barclays usually focus their invoicing services on companies with credit sales of at least £100,000 a year and work with a wide range of enterprises such as printers, distributers, transport firms and employment agencies.
HSBC offer services to medium and large businesses (usually with a projected turnover of £250,000) and provide attractive packages that include credit protection, international factoring, online account management and no hidden charges.
Best specialised UK companies
GE Commercial Finance is a household name with a wide range of finance options. This specialisation across the industry can really help you get the most out of your factoring agreement and make your assets work for you. They have a rapid turnaround for making funds available, a global presence and dedicated client managers.
SME Invoice Finance is a specialist invoice finance company, focused on helping small businesses. Their flexible packages are designed with the customer firmly in the driving seat and they pride themselves on customer service and independent advice.
Touch Financial is the largest invoice finance broker in the UK, which means they work directly with a whole range of high street and specialist lenders, such as Bibby, RBS, Lloyds TSB and Aldermore, to find the best possible rates for customers looking for factoring services. They offer a 30-day trial service, low interest rates, a large range of business customers and a whole range of other financial services.
Bibby Financial Services are the UK's largest independent factoring company. For an 85% return on the cash tied up in outstanding services, Bibby offer debt chasing, credit control and sales ledger management, which can be kept completely confidential (confidential invoice discounting). They offer help with overseas debt (international factoring) as well as bespoke packages for all industries.
Hitachi Capital provides award-winning invoice factoring and discounting to small and medium sized UK businesses. They offer easy to understand cash flow solutions, with good customer support, trial periods, price promises and a focus on friendly service.