How do Merchant Services work?
Discover the most frequently asked Merchant services questions
What are the prerequisites for using a chip-and-PIN machine?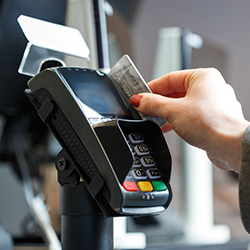 Chip-and-PIN machines, which originally refer to the specific type of credit card terminal capable of reading "smart" credit cards with a chip, as opposed to magnetic stripe-only credit cards, is a phrase now used to refer to any kind of credit or debit card machine. Contrary to "magstripe" card users who need to sign the transaction receipt, "chip" card users are authenticated with their PIN, therefore making a "chip-and-PIN payment".
In the UK, chip-and-PIN machines need several so-called merchant services to process debit or credit card payment.
These prerequisites include:
- A merchant account,
- A payment gateway ,
- Payment processors,
- A point-of-sale system .
Fill in this form to compare up to 4 quotes:
In the UK, chip-and-PIN machines are usually provided by banks, so all these services are typically included in the package. As prices for these required services vary greatly from one provider to another, it's essential to request as many quotes for chip-and-PIN machines as possible, from as many chip-and-PIN machine providers as possible.
Finally, depending on the machine type, extra hardware might also be needed:
- Traditional wired, tabletop machines usually have no printer and sometimes rely totally on the till for transaction details to be entered,
- The most modern mobile chip-and-PIN machines, which rely on a mobile phone or tablet to connect to payment gateway and processors via 3G or 4G and to enter transaction information via a mobile app, also require extra hardware to work as a card terminal.
However, this hardware is usually sold at very low prices – except for the mobile phone, but which retailer doesn't have one in the first place anyway? In the UK, chip-and-PIN machines of the latter type are therefore becoming more and more popular. They should therefore not be neglected in any chip-and-PIN machine comparison .
Discover more Merchant services questions :
How do Merchant Services work? – frequently asked questions :