Compare Card Terminal Quotes and Get your Merchant Account setup today!
Compare Quotes from UK's Leading Providers
in under 1-Min!
Fighting credit card fraud
Reading time: 2 mins
Chip & PIN technology helps reduce card fraud, but a healthy dose of vigilance is also necessary
Total fraud losses on UK debit and credit cards topped £388 million in 2012, according to the UK Cards Association. Here are some of the most commonly used techniques:
Phishing
The practice of sending emails purporting to come from a genuine company such as a bank, in an attempt to trick customers into disclosing information at a bogus company Website operated by fraudsters. These emails usually claim that it is necessary to "update" or "verify" your password, asking you to click on a link from the email that takes you to the bogus Website.
Malware (malicious software)
Computer viruses installed on a computer without the user's knowledge, typically by clicking on a link in an unsolicited email, or by downloading infected software. Malware inserts bogus Web pages, logs keystrokes and performs unauthorised actions on your computer in an attempt to capture passwords, financial or personal information.
Telephone fraud
The cardholder receives a call from a person posing as someone from their bank, or even the police. The caller tells the victim that their account has been defrauded and that the credit or debit card needs to be collected and replaced. The caller asks the cardholder for their PIN before sending a courier to collect the card. The victim is told that the card is going to the bank, but actually is delivered to the fraudster along with the PIN obtained during the scam.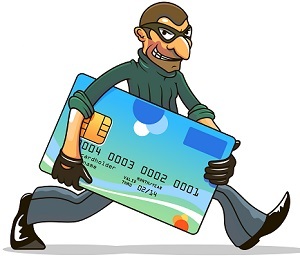 Money mules
Many card fraudsters are located overseas, so they need an accomplice with a UK bank account to act as a money transfer agent, to launder the stolen funds. These "money mules" may be recruited under false pretences, after applying for a job as a payment processing agent in the belief that they will be working for a legitimate company. After being recruited by the fraudsters, money mules receive funds into their accounts. They then withdraw the money and send it overseas using a wire transfer service, minus a percentage commission payment.
Credit card fraud: fighting back
The recent arrival of Chip & PIN technology has helped reduce card fraud, but it has not been eliminated. Here are a few tips to help minimise the chances of becoming a victim of card fraud:
Try not to let your card out of your sight when making a transaction, and don't leave your cards unattended in public places
Check transaction receipts against statements regularly and contact your card company right away if you find an unfamiliar transaction.
Keep your financial statements, receipts and documents safely and destroy or shred them when you dispose of them.