Fleet Insurance or Commercial Vehicle Insurance:
Compare multiple quotes and Save money!
Receive Quotes from UK's Leading Suppliers
in less than 1 minute!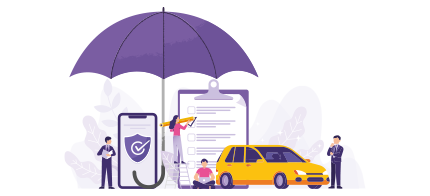 Vehicle insurance
A pedestrian hit me and went under my car
This well-worn joke inadvertently highlights the dual-purpose nature of motor insurance: it is designed to protect you and your vehicle as well as the other guy and his. And crafty pedestrians too.

Fleet insurance is similar to private car insurance in most respects. It differs, however, in that you generally need two or more vehicles to qualify for a policy, and you'll usually go through an insurance broker to get it. Fleet insurance brokers have access to specialist insurance schemes which are not available to the general public, and they can therefore offer you more competitive rates. Covering all your fleet vehicles under a single insurance policy is not only cheaper, it also makes fleet management a whole lot easier.
Basics of motor insurance
It is illegal in the UK to drive a vehicle or to permit someone else to drive it without insurance. This holds true for private cars as well as fleet vehicles. And since June 2011 the Continuous Insurance Enforcement scheme makes it illegal to own an uninsured vehicle even if you never drive it.
The Road Traffic Act requires all motorists to be insured against liability for damage they cause to others' vehicles or property and for injuries to any persons, passengers or other drivers. UK motor insurance falls into three broad categories:
Third party only (mandatory) protects you from liability if you cause an accident that injures or damages any other person, vehicle, animal or property. It does not cover the cost of repairing your own vehicle.
Third party fire and theft (optional)covers liability plus fire damage or theft of your vehicle.
Comprehensive (optional) covers all of the above plus damage to your own vehicle.
Vehicle insurance contracts generally include a policy excess which is the amount you are expected to pay towards a claim. Your insurance provider may impose a compulsory excess, which is based on drivers' age and motoring history. There is also a voluntary excess, and if you choose to pay a higher voluntary excess, your insurance premiums will be lower.
What is required to insure your vehicle fleet?
Nearly any type of business fleet can qualify for fleet insurance, including taxis, ambulances, trucks, lorries, HGVs, vans, driving schools, couriers, haulers and wholesalers. Contracts generally run for 12 months, and your supplier will notify you when it's time to renew. This is the ideal time to shop for a better deal.
You'll need to supply the following details to get business fleet insurance coverage:
A description of your business
A copy of your current fleet insurance policy (if you already have one)
Amount of your last premium paid
Policy excess levels
Type of coverage required
Number of drivers plus details of any disabilities or past motoring convictions
Description of how your vehicles will be used
You also need to declare whether your fleet vehicles have been modified from their original factory settings, if they will be used outside the UK, or in close proximity to aircrafts, or if they will be used to transport hazardous materials.
How much does fleet insurance cost?
As you may have guessed, the cost of insuring your fleet of vehicles depends on many variables and therefore cannot be accurately estimated until you define your needs. Business fleet insurance suppliers and brokers are happy to offer you a quote based on your fleet size, drivers' history, vehicle usage, location and other details.
The market is highly competitive, so it makes sense to seek and compare quotes for car insurance. You can start right away by filling in the form at the top of this article; by supplying a few details about your business fleet you will receive up to four no-obligation quotes from carefully qualified suppliers within 48 hours.