Single Invoice Finance:


Improve your cash flow without using a full factoring service.
Complete our Fast Track Form and Compare
the Best Rates from Leading Providers!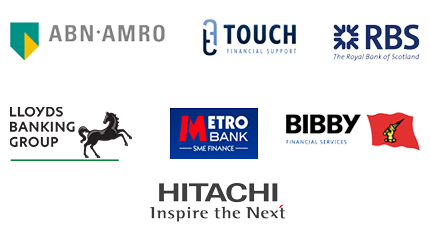 Get several quotes in just 60 seconds!
Like millions of users before you, entrust us with the search for your suppliers
Fast and effective
After posting my request, I was contacted within hours by a COMPANEO advisor to be sure of the content of the request. The same day two suppliers contacted me and the following days two more. Very efficient in obtaining quotes.
A service to know
Very good selection of companies. Speed ​​and efficiency are there.
Simple and efficient
Good helpful service when time is short! Very good service which puts in touch with the providers of the services sought. When you are short of time, it allows you to be in touch quickly.
Your advantages with COMPANEO
Only 1 Form To Fill - No Need To Browse Around
Only Receive Targeted Offers from Approved Suppliers
Our Suppliers Will Compete To Win Your Business
Invoice finance represents a wealth of opportunities for businesses to get a quick supply of cash from banks for short-term needs, representing relatively small amounts.
Contrary to traditional credit lines or bank loans, they do not require (too) much paperwork or endanger essential assets and can usually be obtained quite simply. However, the number of different factoring services and invoice factoring companies make it difficult to understand exactly which deal best matches the specific needs of individual businesses at a precise point in time.
This article was written to help business owners or CFOs compare available factoring deals by:
- Describing what invoice finance and what factoring are, giving details of each type of invoice finance solution,
- Giving useful hints and tips to select the best factoring company and factoring deal for every specific short-term financing need.
Invoice finance explained
As financial innovation never stops bringing new facilities to the market, invoice finance may refer to an increasing number of slightly different business financing options. Common advantages of these solutions may appeal to certain businesses, in certain conditions.
What invoice finance is
Invoice finance is a type of receivables finance , which is itself a type of asset-based finance, as a kind of asset is used as collateral to the funds given by the bank.
However, invoices are a special kind of asset: as receivables, they can either be used as a guarantee for relatively certain revenue in the short term, used by the borrower to repay the loan, or be purchased directly by the bank.
The latter situation can therefore not be assimilated with asset-based loans... as it's not a loan: the bank directly repays itself by claiming and obtaining payment from the customer of the borrower. In these circumstances, the bank or financial services provider can be called a "factor", as strictly speaking, factoring is just one type of invoice finance.
Types of invoice financing
These two broad categories of invoice finance cover many different types of options:
- Invoice discounting , or recourse factoring as it's sometimes called, refers to a proper short-term loan granted by the bank to a business, using invoices as collateral. It's up to the business to collect the funds as normal from its customer, and repay the loan to the bank. It's also called invoice discounting as the funds loaned only represent a discounted value of the invoices considered, up to 80% (the "advance rate").
- In the case of confidential invoice discounting , the business is still in charge of the sales ledger and collection, but the customer directly pays the invoice to the financial services provider... by sending funds to an account owned and operated by the financial services manager in the name of the business.
- Invoice factoring, or non-recourse factoring , debt factoring or simply factoring refers to the situation when the bank actually purchases the invoices and obtains the repayment of its "investment" directly from the customer of the business, plus a fee from the business. The customer of the business therefore knows that the supplier has been in a factoring arrangement, unless a confidential factoring arrangement is selected.
- Reverse factoring , contrary to other factoring arrangements, is not requested by businesses which supply goods or services in order to get cash before the invoice is paid, it is requested by businesses purchasing these goods or services. The supplier gets the invoice paid by the factor or financial services company, which is later repaid by the buyer of the goods or services.
- Contrary to all previous factoring arrangements, which involve long-term contracts and more often than not monthly fees payable to the financial services provider, spot factoring or selective invoice finance allows one-time, one-shot factoring deals. Advance rates are usually lower than with traditional factoring deals.
Advantages and typical business users
These invoice finance options all bring the same advantages of:
- Fast cash, usually obtained in less than 48 hours,
- Without endangering vital assets,
- At reasonable rates,
- For any short-term need.
Although these advantages will appeal to many businesses, the profiles of the typical users of invoice finance will differ depending on the selected plan:
- Invoice discounting is only usually open to established businesses with regular revenue streams, and turnovers well over £100,000,
- Invoice factoring is more suited to SMEs, in any industry, but maybe even more in the retail industry,
- Reverse factoring is more designed for large, low-margin supply chain businesses,
- While spot factoring is the perfect financial product for SMEs with little trading history.
Invoice finance compared
In the UK, invoice factoring options are now offered by many different banks and financial services firms. Choosing the best factoring provider and choosing the right deal for one's specific needs requires an organised screening process, with key comparison criteria and a solid number of factoring quotes.
Choosing the best invoice financing company
Most business banks in the UK now provide invoice finance solutions, such as:
- Barclays,
- NatWest,
- RBS,
- Santander,
- HSBC,
- Lloys TSB...
But also, many specialised financial services providers without high-street presence, such as:
- MarketInvoice,
- GE Commercial finance,
- SME Invoice finance,
- Touch financial,
- Hitachi Capital,
- Bibby financial services....
Key selection factors to look into when choosing among factors include:
- Getting the best rates, and rates do not only include the advance rate, but also many other fees,
- Getting the best cash advance amount (which is nearly never the advertised advance rate),
- Making sure the financial services provider is listed as a member of the Asset Based Finance Association,
- Contract duration for all deals other than spot-factoring, as well as termination clauses,
- Industry-specific expertise,
- Penalties in case of late repayments,
- Availability of alternative, back-up financing solutions,
- Service level in relation to the borrowing business, but also
- Service level in relation to the customer of the business in the case of invoice factoring: you don't want to lose the customer because the factor would have terrorised them into paying their bills in your name.
Getting the right quotes before making a final choice
Financing invoice finance involves much more than a discount on the invoice.
Fees may include:
- The advance rate,
- Interest charges,
- Service fees (these are one-time fees), like factoring fees (as a percentage of the invoice value),
- Monthly fees for long term agreements,
- The discount rate,
- Transaction fees,
- Insurance fees,
- Termination fees...
Taking all these different fees into account, and reviewing all the other contractual aspects, which can be as essential as payment terms, collection terms and termination terms, makes it a hard task to compare invoice finance offers from different providers.
One solution is to use services such as Companeo, which allows users to collect quotes from some of the best factoring companies in the UK and compare their offers in just a few clicks. It's simple, it comes for free, and there are no strings attached – to put it in a nutshell, it's just like the opposite of invoice finance!
These articles might interest you
Also discover our other categories of products / services: