Buying, renting, pricing and suppliers for merchant services
Discover the most frequently asked Merchant services questions
How to choose a merchant account supplier?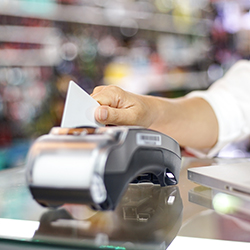 As merchant services are no longer only provided by traditional, high-street banks, there are now dozens of merchant account suppliers who can help large and small businesses in the UK start processing card payments.
These merchant services suppliers can have various origins, which often still indicate the strong point in their package:
- Some are traditional, high-street banks with a great experience in providing financial services to professionals,
- Others are online banks with just the same level of expertise on financial services,
- Some are payment gateway providers who know everything about e-commerce,
- Some are originally known for their other business software products, like accounting software, and promise wonderful integration,
- Others are specialists of mobile payment solutions.
Fill in this form to compare up to 4 quotes:
Regardless of their origins all these merchant account providers now supply at least a basic merchant services package.
A series of objective criteria may help choosing the best merchant services supplier for a given business.
Prospective customers can try to know:
- How familiar the provider is with the actual line of business this customer is trading,
- How familiar it is with businesses of the same size,
- If payment methods generally used by the customer base of the business are accepted,
- How transparent the contract is, especially the contract termination procedure and the fee structure,
- How comprehensive the merchant services package is: does it include all the point of sale hardware, software and merchant services needed? More crucially, does it include an e-commerce solution with at least a payment gateway and virtual terminal?
- If this hardware and/or software will integrate easily with the existing equipment,
- How fast transfers from the merchant account to the business account are,
- What security standards are guaranteed for supported card and online transactions, in relation with the PCI-DSS standards,
- What level of support and customer service is provided, and how help can be reached in case of need (phone, e-mail only, ticket system, service hours...)
Finally, as comparisons between merchant account suppliers are made different by different fee structures, it's essential to gather as many quotes as possible from different merchant account providers , and make sure that these quotes can be clear and understandable. Companeo is an online service helping companies get just that: clear, streamlined quotes from several merchant account suppliers in just a few clicks.
Discover more Merchant services questions :
Buying, renting, pricing and suppliers for merchant services – frequently asked questions :