Buying, renting, pricing and suppliers for merchant services
Discover the most frequently asked Merchant services questions
Should a credit card machine rental plan be preferred to card machine purchase?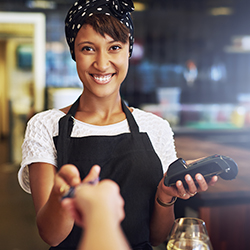 In the UK, card machine rental is traditionally the most popular way for retailers to get credit card terminals. For instance, portable credit card machine rental is still highly popular with restaurants or pubs. This is largely due to the fact that business banks used to be the main providers of credit card machines, and also that purchasing credit card machines used to be really expensive. However, prices have gone down quite a bit, providers have multiplied, and credit card machines for small businesses are now commonplace.
Whatever the credit card machine rental plan details, reasons to prefer to rent credit card machines include:
- The fact that the machine is usually part of an all-inclusive package, with all the hardware, software and financial services needed,
- The fact that the machine comes with a full maintenance and technical service package if anything goes wrong, and even regular supplies of consumables,
- The fact that the retailer can change the machine anytime for a different or more modern model,
- The fact that some businesses simply need card machines for very specific, time-limited purposes, for example, business trips or trade shows, making short-term credit card machine rental the only reasonable option.
Fill in this form to compare up to 4 quotes:
On the other hand, retailers who buy credit card machines enjoy:
- Lower card machine costs in the medium or long run, especially as refurbished machines or extremely cheap card readers are now available,
- Total capacity to choose the model they prefer,
- Greater ability to integrate their credit card processing solution and choose custom parameters,
- Freedom from contractual lock-ins with merchant banks.
However, from a purely economical point of view, plans may be very different from a provider to another, or even with the same provider for different plans. It is therefore advisable to request as many q uotes for card machine hire as possible, using services such as Companeo, before choosing between renting and purchasing this equipment.
Discover more Merchant services questions :
Buying, renting, pricing and suppliers for merchant services – frequently asked questions :