Buying, renting, pricing and suppliers for merchant services
Discover the most frequently asked Merchant services questions
How much do credit card machines cost?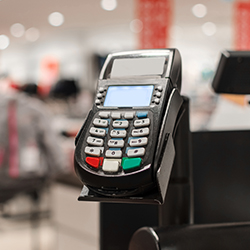 Card machine prices have come down quite a bit. For instance, new modular systems based on mobile phones only require card readers to be purchased separately for as little as £20. More complex, standalone card machines cost anywhere between £60 and £600 depending on the type of card machine. These prices are brought to a monthly fee of just a few pounds in case of a card machine rental, so it's really about how you'll be getting the card machine for your business.
But because processing card payments relies as much on hardware as on software and services, card machine prices don't really tell the whole story of card machine costs. UK-based retailers have a variety of plans to choose from, and their business details, like the number of transactions processed, will nearly always influence the price they have to pay for the service.
Fill in this form to compare up to 4 quotes:
In order to understand these costs, it's necessary to understand how card machines do work . An internet connection and point of sale system are needed so that transaction details are registered, customers authenticated, payments authorised through payment gateways and processors, and funds sent to a merchant account before they are forwarded to the retailer's business account.
Because of these procedures, costs of credit card machines for small businesses also include:
- Other equipment costs, like receipt printer, till or point of sale system and point of sale software ,
- Connection costs, which makes mobile card machine costs higher as these will need a mobile data plan to operate,
- Merchant account monthly fees,
- Setup fees,
- Transaction fees, which can be flat, percentage-based or a combination of both,
- Special operations fees like chargeback fees or cross-border transaction fees,
- Yearly PCI compliance or non-compliance fees.
Discover more Merchant services questions :
Buying, renting, pricing and suppliers for merchant services – frequently asked questions :