Making your choice
Discover the most frequently asked Tracking questions
How to choose my vehicle tracking system?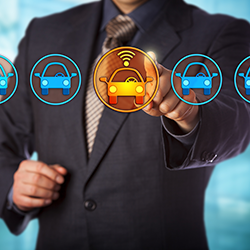 To proceed with its choice of vehicle tracking system, any company must first of all take stock of its fleet management and how it wishes to optimise it, by identifying its priority objectives.
Depending on the system, vehicle tracking systems offer very different possibilities. The nature of the business will also guide system choices. GPS systems for taxis do not offer the same features as for GPS systems for agricultural machinery or emergency vehicles.
It is necessary to determine:
- The type of vehicle to be tracked (heavy goods vehicles, utility vehicles, cars),
- The type of data the company wants to collect (fuel consumption, driver behaviour or simple positioning data),
- Data transmission method (in real time, on request or by reading from memory on return),
- Network coverage of the areas to be covered (in the case of positioning technology by mobile networks),
- Features that integrated software must have (transmission of assignment orders, vehicle guiding assistance).
These several points will make it possible to choose a vehicle tracking system with the right hardware/software/technology bundle for the company. The right vehicle tracking system will bring optimised fleet monitoring, and real added value in terms of management and cost optimisation.
Fill in this form to compare up to 4 quotes:
It is also necessary to think about how the system will be used. Vehicle tracking systems must be simple for employees in order to be fully effective and to improve the reliability of reports made with collected data. The system should also be easily deactivated by employees outside of working hours.
To make it easier to choose a company vehicle tracking system, it's better to make several vehicle tracking system quote requests . Online comparators, like Companeo's, prove to be valuable assets in this process and makes the decision-makers' job easier. After just a few clicks using this tool, you're ready to receive quotes adapted to each context, sent by suppliers selected for the quality of their products as well as for their reliability. All that's left to do is to evaluate the best proposal and choose the best vehicle tracking system for your needs.
Discover more Tracking questions :
Making your choice – frequently asked questions :