Product/Service
Discover the most frequently asked Tracking questions
What are the benefits of vehicle tracking systems for rental vehicles?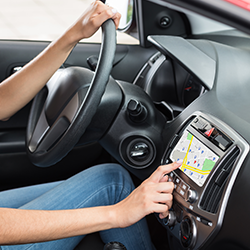 It is important to distinguish two issues related with GPS systems and rental vehicles: the installation of these systems by the vehicle user in the vehicles he leases, and their installation by the vehicle rental companies for purposes specific to these vehicles.
The first scenario mainly concerns vehicles leased to companies under long-term rental contracts. Unless there is a specific clause, it is possible for the customer to install GPS devices in these vehicles.
All the advantages of geolocation systems are available:
- route optimisation,
- anti-theft security,
- alerts in case of deviations from the course,
- alerts in the event of sudden braking or hazardous acceleration,
- eco-driving training,
- savings on fuel expenses and vehicle maintenance,
- remote car fleet management,
- more accurate calculation of in-kind benefits for travelling salespeople,
- fewer reporting tasks.
Fill in this form to compare up to 4 quotes:
In the second case, the tracking of rental vehicles is carried out by the vehicle rental company.
The benefits of geolocation systems which will be of particular interest to the leasing company deal with:
- theft protection, which alone justifies the price of rental vehicle tracking systems,
- assistance in the analysis of any damage caused by the customer,
- tamper-proof indication of the mileage made by the vehicle during the rental period,
- business applications specifically intended for vehicle rental companies.
Whatever the configuration considered, all these advantages of geolocation systems guarantee an excellent return on investment, quickly justifying the price of vehicle tracking systems.
Please note, however, that in both cases, legislation on geolocation systems must be strictly observed, particularly with regards to the obligation to inform vehicle users that they may be tracked.
Some suppliers propose vehicle tracking systems designed for the specific needs of vehicle rental companies. Use our vehicle tracking systems quote request form to contact them and receive their proposals free of charge!
Discover more Tracking questions :
Product/Service – frequently asked questions :