BUSINESS ENERGY
Compare Suppliers and Save Money on your Energy Bills
Get Quotes
and Find the Best Deal for your Business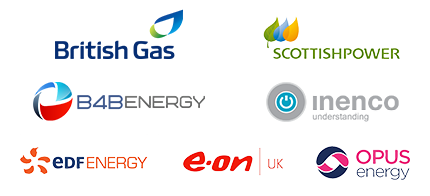 Energy: Who are the main UK business electricity suppliers?
Reading time: 3 mins
The UK electricity market is a crowded place, with a range of household name companies all looking to convince you that their energy offering is the best one. Choosing the best electricity provider is a crucial step to combating rising fuel prices, but it can be hard to know where to start. Below we introduce the main players in the UK electricity business.

The Big Six business electricity suppliers
Labeled as the big six, the UKs largest electricity suppliers dominate the market:
British Gas. The largest UK provider of business electricity. It is part of Centrica and has a global presence. British Gas claim to have the lowest carbon dioxide emissions of all major providers and are committed to funding renewable and sustainable energy schemes. It includes Enron and Electricity Direct.
EDF Energy (which stands for Electricite de France) largely supply power to London and the South of England, serving around a quarter of the population. EDF focus on educating children about climate change and implementing new technology to drive sustainable energy sources.
Npower. Founded in 2000 as a collection of smaller energy and electricity businesses, Npower has quickly grown to be one of the country's leading electricity providers, especially with northern business customers. They generate their own electricity through wind and hydro power alongside the conventional power stations and are committed to investing in community projects.
E. ON is the largest investor-owned electricity supplier and is based largely in the East Midlands. They have a long-term plan to drastically increase their renewable energy output year on year, and own the largest hydro power plant in the UK. E.ON owns Powergen, Norweb and Eastern Electricity, among others.
ScottishPower. ScottishPower not only supply gas and electricity across the UK (owning their own distribution network) but are the largest operator of wind farms and wind energy technology. They have a dedicated business arm, ScottishPower Business set up to specifically cater for the needs of business users.
SSE or Scottish and Southern Energy is made up of three smaller companies; Swalec, Scottish Hydro Electric and Southern Electric. They are the second largest electricity supplier, behind British Gas. They have a proud history in being at the forefront of renewable energy technology, specializing in harnessing the weather conditions in Wales and Scotland and in their excellent customer satisfaction records.
There are in fact around twenty power providers in total and some of the smaller suppliers such as Good Energy, Utility Warehouse and Ecotricity can provide very competitive rates as well as a high level of customer service.
Which is the right electricity supplier for your business?
Having so many supplier choices is good news for business electricity customers. The market is competitive and despite the rising utility costs, there are great deals to be found because of this. Choosing the right business electricity supplier will come down to personal requirements, such as size of premises, usage, operational hours, payment preferences and location. Start searching and comparing business electricity prices now to find the best deal and the best energy company.