What are the types of merchant services?
Discover the most frequently asked Merchant services questions
What is a credit card machine?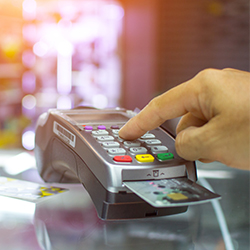 Credit card machines, commonly referred to as Point of Sale (POS), Electronic Point of Sale (EPOS) terminals, PDQ machines, PDQ terminals, card terminals or card payment machines are the secure interface through which merchants can process credit or debit card payments from customers.
PDQ terminals come in four basic varieties:
- Countertop, wired machines, sitting next to the till they're connected with,
- Portable, wireless machines, working on Bluetooth or Wifi within the premises of the shop,
- Mobile card machines, using a built-in modem to connect to mobile phone signals and enable credit card transaction processing nearly anywhere, anytime,
- And smartphone/tablet card readers, a late addition to the list, which only work as full credit/debit card terminals when connected to a smartphone or SIM-card equipped tablet.
Fill in this form to compare up to 4 quotes:
As card machine payments needs a host of software, hardware and financial services to be actually processed, most card machines for small businesses are rented out as part of a merchant services package, especially when a short-term hire is needed. Merchant accounts are the foundation of such packages. Merchant account fees and transaction fees have to be added to the credit card terminal price or rental fees to properly budget card payment processing costs.
However, the price of PDQ machines has come down significantly and smartphone card reader packages now make these machines really affordable even for small businesses.
Discriminating features of PDQ machines include:
- Size and weight,
- Payment methods accepted (chip-and-PIN, swipe, contactless),
- Connectivity (Bluetooth, Wifi, USB, Ethernet, Dial-up, GPRS, 3G),
- Screen type (Matrix, LCD, LED, colour or grayscale) and resolution,
- Printer type and print Speed (lines per second),
- Processor,
- RAM Memory,
- Flash memory,
- Battery life...
Fill in a request for quotes in card machines on Companeo.co.uk to compare the best offers on the market!
Discover more Merchant services questions :
What are the types of merchant services? – frequently asked questions :