Making your choice
Discover the most frequently asked Business Alarm Systems questions
How to use access control systems to make entries and exits more secure?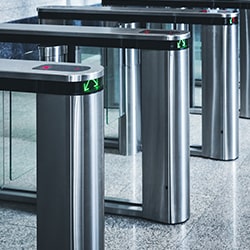 There are several possibilities to secure the entries and exits on the premises of your company:
- card readers allow entry only to holders of the company badge,
- biometric readers recognise employees based on a physical characteristic (fingerprint, eye, etc.),
- push-button locks requires keying in a confidential number,
- doorbells allows you to hear or see the person requesting access,
- electric or electronic door locks (using cards, fingerprints, codes, etc.)
Access control devices generally include three elements:
- An authentication system (code, card, key, biometric element...),
- An authorisation system (for example a person can be correctly authenticated but not be authorised to enter the premises at a given time),
- A traceability system allowing accurate reporting of access rights.
Fill in this form to compare up to 4 quotes:
The choice of your access control system will depend on the desired level of security, the type of premises which need to be equipped and your budget.