How do photocopiers and printers work?
Discover the most frequently asked Copiers and printers questions
What is a fax number?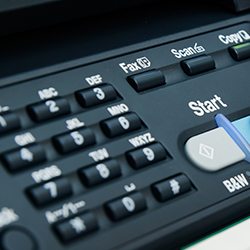 Fax machines are still, in the 21st century, a staple of office equipment, and they're also suited to domestic use. Entry-level models are really affordable, while mid-range or high-end units offer outstanding service for companies of all sizes. Their easy operation is also appreciated, and they come in handy when no internet connection is available, or when a quick exchange of manuscript paperwork is needed. Finally, obtaining a fax number is a fairly straightforward process, for home users and business owners alike.
As fax machines use the telephone landline, your phone number is therefore also your fax number. If you plug the machine into any free phone jack in your house, you will be able to send or receive faxes, although it will be impossible to use the phone and the fax machine at the same time. It's only acceptable if you process 1-2 faxes a day.
However, installing another phone line dedicated to fax transmission is just as simple. Most phone company provide local fax numbers for a few pounds a month, or even free of charge in an internet, phone and television package. Businesses often set up toll-free numbers for their customers or suppliers. This way, the company is charged for any fax it receives, not the sender. Toll-free numbers are also perfect for companies which don't wish to charge their overseas partners.
Fill in this form to compare up to 4 quotes:
In recent years, online faxing has become increasingly popular. Most internet providers offer online faxing facilities and customizable fax numbers, for generally cheap subscription fees. Online faxing is appreciated by business owners as it gives any connected device, such as a smartphone, the ability to receive, send or edit faxes on the go.
Discover more Copiers and printers questions :
How do photocopiers and printers work? – frequently asked questions :