How do photocopiers and printers work?
Discover the most popular questions in Copiers and printers
If I move to a new office can I renegotiate my printer contract?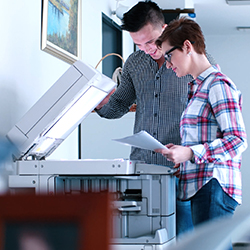 Moving from one office to another can be disruptive and expensive, especially where large office machinery such as printers are concerned. But moving to a new office can be a way of renegotiating leasing contracts or upgrading to more appropriate equipment, such as smaller printers for an office downsize, or higher capacity machines for an expanding business.
Even if your move comes mid-way through your printer rental contract , speak to your provider about updating your contract to upgrade equipment, get assistance with moving and re-installing, or refinancing, but do check carefully for any hidden costs associated with updating your contract.
Fill in this form to compare up to 4 quotes:
Discover other questions in Copiers and printers :
How do photocopiers and printers work?: frequently asked questions :