How do photocopiers and printers work?
Discover the most frequently asked Copiers and printers questions
What sorts of breakdowns are common with office photocopiers?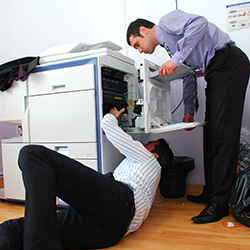 Photocopiers are robust and hard wearing pieces of office equipment, and with regular servicing and the correct consumables they generally will last for many years with few problems.
However, some of the most common breakdowns and problems include paper jams, slow printing, ink running low, blurry images or drums and belts wearing out. Servicing to replace parts before they break and keep ink heads and rollers clean as well as using good quality, manufacturer approved ink and paper will help to minimise these issues. Whether you purchase, rent or lease your photocopier , you can usually expect a service and maintenance contract to deal with any breakdowns.
Fill in this form to compare up to 4 quotes:
Discover more Copiers and printers questions :
How do photocopiers and printers work? – frequently asked questions :