Everything you need to consider before buying or renting a photocopier or a printer
Discover the most frequently asked Copiers and printers questions
Is leasing a printer-photocopier better than buying or renting one?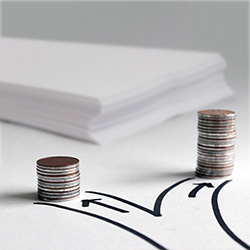 Leasing a copier or printer for corporate needs is proving more and more popular in the UK. Printer-copiers with all productivity features needed by companies large and small such as bulk copying, autonomous operations, stapling and binding may cost thousands of pounds if purchased outright, and a leasing arrangement helps bring the costs down to bearable monthly payments. And there's the additional benefit of being actually able to acquire the machine at the end of the copier leasing arrangement, which by definition isn't possible in an office printer rental plan.
Two types of office copier lease are actually available:
- Operating office printer lease means the lessee has the option of buying the copier-printer at the end of the leasing arrangement, with monthly instalments already paid for deducted, but also at a total price discounted for depreciation, aging, and diminished market demand.
The copier or printer never becomes an asset in accounting terms until this option to purchase the machine is activated. This is like renting a copier, but with the advantages of buying coming in at the end.
- Capital copier or printer leasing arrangement actually means the machine is bought on a kind of credit. The value of the printer is not discounted as it is practically purchased right from the start, new. The printer immediately becomes an asset for the company. This is like buying a copier-printer for a small business, but without all the inconvenience related to buying.
Fill in this form to compare up to 4 quotes:
Printer and copier leasing arrangements also have one advantage over renting and buying inasmuch as leasing is often offered within a "managed print services" plan. Such plans mean that the copier provider will simply take care of everything: replenish and change consumables and supplies regularly, complete maintenance tasks and necessary repairs.
Such added convenience however usually comes at a cost, and supplies are usually more expensive in these plans than if purchased independently, and some conditions in the contract may prove quite unfavourable.
For all these reasons, it's really necessary for the customer to read all the fine print in the leasing contract, requests several quotes for printers and sometimes, buying a simple, basic printer-copier for small business use can be more interesting in the medium run.
Discover more Copiers and printers questions :
Everything you need to consider before buying or renting a photocopier or a printer – frequently asked questions :