How to choose the right merchant services?
Discover the most frequently asked Merchant services questions
Is it possible to hire a credit card terminal for a short time?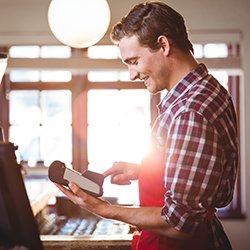 Many businesses don't need to accept card payments all year round.
Companies may need to hire a credit card terminal for just a few weeks, a few days or even just for one day, for a variety of reasons:
- Temporary surge in business – case for additional card terminals,
- Business trip,
- Participation to a trade show or exhibition,
- Pop-up shop experience.
Because of these reasons, which almost always involve doing business on the go, mobile credit card terminal hires are especially sought after.
Fill in this form to compare up to 4 quotes:
It's actually true that for many years, in the UK, credit card terminal hires were only proposed by traditional brick-and-mortar banks, together with a merchant and account and a one-year, two-year contract.
It's no longer the case as it's now possible to hire credit card terminals directly from specialized merchant services providers. Some of these pure players are further specialized in short-term credit card hires.
With these payment terminal providers, it's possible to hire credit card terminals for as little as 6 months, 1 month, 1 week or even 1 day, without the need to sign up to a lengthy lease contract. Terminals can be delivered ready to go, with required accessories and technical support.
However, interested retailers should remember that:
- A merchant account is still required for any trader accepting card payments (it's sometimes included in the package),
- A one-off fee is sometimes required to set up the short-term contract,
- The shorter the credit card terminal hire, the more expensive the rental fees,
- Paying a deposit nearly worth the value of the terminal is almost always required.
All these fees make it even more essential to request as many quotes for credit card terminal hires as possible and reviewing these quotes carefully before committing to a short-term credit card terminal hire contract. Companeo is a great place to start looking for such quotes.
Discover more Merchant services questions :
How to choose the right merchant services? – frequently asked questions :