How to choose the right merchant services?
Discover the most frequently asked Merchant services questions
Which credit card machine is right for a small business?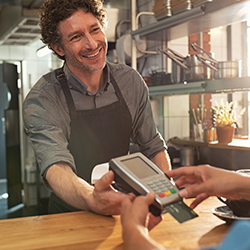 Small businesses very rarely buy a card machine alone, as a package of software and financial services is needed to accept card payments. Deciding on the right credit card machine for a small business therefore largely depends on two factors: the type of payment machine for small business needed, which has to do with customer preferred payment habits, and services-to-cost ratio of the card machine provider.
The most common types of credit card machines for small businesses include:
- Countertop or desktop, wired card payment terminals, which are ideal for static trading outlets such as shops, where customers come to a till point to pay for goods,
- Wireless or portable card machines, which are usually more suitable for restaurants, bars or other outlets where a card machine needs to be taken directly to the customer whilst on the premises,
- Mobile card machines, which make it possible to accept payment almost anywhere and so are perfect for tradesmen, taxis or portable services which visit customers directly, like delivery services.
Fill in this form to compare up to 4 quotes:
Discriminating services and contract specifics related to the acquisition of a debit or credit card machines for small businesses include:
- Merchant account services and notably the time needed to transfer funds to the regular business account of the retailer,
- Payment gateway specifics, such as the ease of integration within and e-commerce website, or the very support of cardholder-not-present payments,
- Contents of the hardware and software bundle, like point of sale software and hardware, printers, barcode readers, till, shopping cart software, gateway and virtual terminal...,
- Customer service and support,
- Fees – all fees, including rental fees, merchant account fees, transaction fees, setup fees, termination fees...
Based on their popularity the UK, credit card payment services providers which can be recommended include:
- iZettle, which offers a simple contactless payment compatible card reader and uses the retailer's mobile phone or connected tablet as a point of sale system,
- SumUp, which is based on the same principles,
- Square, which also uses the same form factor, and has a very comprehensive merchant services package,
- PayPayl Here, which integrates beautifully in-shop payments and online transactions,
- WorldPay, which is a long-established merchant services provider and has multiple plans and hardware products available to grow with small businesses.
Discover more Merchant services questions :
How to choose the right merchant services? – frequently asked questions :