How to choose the right merchant services?
Discover the most frequently asked Merchant services questions
How do card terminals improve customer service?
Accepting credit card payments helps small businesses boost sales and improve customer service.
Customers don't always carry large amounts of cash and if they cannot pay for a product or service with a card, they may not buy at all or take their business elsewhere. Installing systems which operate credit card processing for small businesses may seem complex, but the basic principals are actually very simple.
The first step is to set up a contract with a merchant account provider. This allows your business to accept card payments , whether face to face in a shop or restaurant, over the phone or through the Internet. You then need to purchase a system for accepting payments, choosing between fixed, wireless or mobile credit card terminals.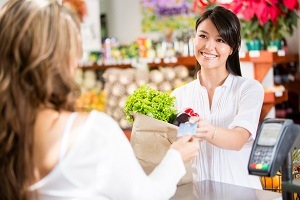 Card terminal customer service benefits:
- An extremely fast system to process payment greatly reduces queuing time.- Multiple terminals can be used simultaneously with no loss in transaction time.- Flexibility means customers can pay from anywhere.- In bars and restaurants servers can take payments at tableside.- Tips can be added discreetly to the bill on the terminal.- Customers can pay online from anywhere they have a connection.- Reward schemes and security guarantees on large purchases.
Discover more Merchant services questions :
How to choose the right merchant services? – frequently asked questions :