How to choose the right merchant services?
Discover the most frequently asked Merchant services questions
Who needs a wireless credit card terminal?
Wireless card terminals are especially adapted for restaurants and cafés as well as retail businesses with large premises.
Wireless card machines and restaurants
The classic use of a wireless credit card terminal is in a restaurant. When diners have been seated and are enjoying their meal, they do not want to have to abandon their coffee or dessert in order to come and pay their bill. Being able to settle the bill at the table is just an extension of the service that they have been accustomed to. Similarly, other businesses that have a relaxing or seated environment can also use a wireless credit card terminal to better serve their customers. These devices provide a benefit to restaurants and cafés as well as salons, barbers, hairdressers and more.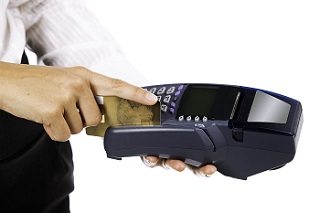 And businesses with large premises
When you run a garden centre, building supply shop, junkyard or any other company that occupies a large space, your customers may have to walk a significant distance between the place where they decided to make a purchase and the till. Each of those steps is a moment where they could reconsider their choice and decide not to buy. If a sales assistant has helped them with browsing, they might walk them back to the till, but that leaves other customers without help. When the sales assistants are equipped with mobile wireless terminals they can close sales and take payments on the spot. This helps cut down on lost sales and maximises the amount of time your employees have to deal with customers. A wireless card termina l can also be convenient for your customers, allowing them to pay for a purchase and continue browsing. Even some hotels have started to use this method for room service payments at the time of delivery in order to streamline the checkout process.
Discover more Merchant services questions :
How to choose the right merchant services? – frequently asked questions :