Product/Service
Discover the most frequently asked Business Alarm Systems questions
Are there sabotage-protection solutions for alarm systems?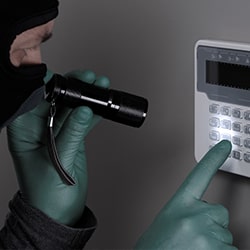 There are several ways to protect your alarm system against sabotage:
- If the alarm is ripped off its holder, a signal may go off.
- A battery can keep the system running even in the event of a power failure; detectors plugged into mains supply may have backup batteries to operate when there's an outage. An alarm system often has a backup battery in case of failure.
- If there is an interruption in the telephone network, the alarm can send a signal to notify you.
- Certain technologies (double frequency for example) make it possible to avoid jamming attempts.
Fill in this form to compare up to 4 quotes:
Note that in order to avoid sabotage attempts as much as possible, it is better not to install the alarm hub in a place easily visible to burglars, as it represents the key element in the alarm system!
Discover more Business Alarm Systems questions :
Product/Service – frequently asked questions :