Product/Service
Discover the most frequently asked Business Alarm Systems questions
How do alarm systems work?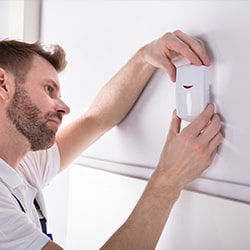 An alarm system includes sensors which can be of different types:
- door or window-opening detectors generating a magnetic beam which is broken during an intrusion, therefore triggering the alarm,
- outdoor or indoor motion detectors using infrared to detect a presence,
- more rarely: glass break detectors.
In the event of a break-in, detectors transmit an electrical signal to the alarm system control panel, using a wired or radio connection, then the control panel transforms this information into an alarm. An audible and / or light signal is triggered and the central monitoring station can be contacted.
Fill in this form to compare up to 4 quotes:
Before choosing an alarm system, remember to check that it can continue to operate in the event of a power failure (siren included).
Discover more Business Alarm Systems questions :
Product/Service – frequently asked questions :