Product/Service
Discover the most frequently asked Business Alarm Systems questions
What are the benefits of CCTV surveillance systems for a shop?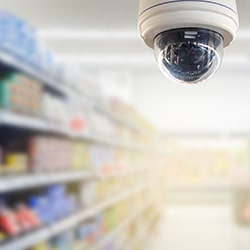 Installing CCTV surveillance cameras in your business brings many benefits. First of all, a CCTV surveillance camera system has a deterrent effect on certain ill-intentioned individuals (fraudsters and aggressors).
Informing your visitors of this type of monitoring has the effect of limiting inconveniences such as:
- theft,
- aggressions,
- vandalism...
Other advantages are taken into account:
- One basic rule is to install the CCTV cameras close to tills or storehouses. This allows theft, markdowns or disputes by customers to be detected quickly and efficiently.
- CCTV cameras allow you to enjoy a global view of your shop. You can therefore keep an eye on all entries and exits in the shop, as well as the tills, storehouses and various aisles.
Fill in this form to compare up to 4 quotes:
Some store camera models also have other features:
- Directly find the last person to have handled a missing object thanks to an object search feature. This saves you time because this feature saves you hours of viewing.
- Print the images of your recordings, which is useful in the event of a dispute.
- View the images on the internet, on any computer and therefore remotely from the monitored location. This is a very useful feature when you have to be away from the premises or when you're taking time off.
If you want to dig deeper into the subject, check our article about business CCTV surveillance cameras . To find out more, you can also get information from our suppliers by requesting a CCTV surveillance quote.
Discover more Business Alarm Systems questions :
Product/Service – frequently asked questions :