Technology/Functionality
Discover the most frequently asked Business Alarm Systems questions
How to keep your workplace safe during the Covid-19 crisis?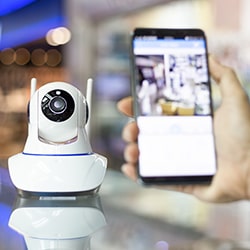 Employers are responsible for the health and safety of their employees. Applicable laws provide that they must take preventive measures and ensure that these measures are adapted to take changed circumstances into account.
In times of crisis, as in the context of Covid-19, employers must therefore reassess these risks and implement necessary actions to reduce risks:
- homeworking,
- awareness campaigns,
- compliance with social distancing
- cleaning of the premises,
- specific equipment adapted to Covid-19, such as masks, hand gel or protective screens.
Apart from this aspect, employers must also think about securing the premises. Indeed in these times troubled by the coronavirus, law enforcement services note an increase in burglaries with ramming cars. Businesses which are currently closed due to government instructions and which hold stocks of merchandise (clothing, perfumes, etc.), as well as manufacturers who store metals, are particularly targeted by criminals.
Security forces, local governments, chambers of commerce offer to set up rounds of surveillance of office buildings at the request of companies that wish to do so.
Fill in this form to compare up to 4 quotes:
Best practices concerning workplace protection and the prevention of burglaries or intrusions which already existed before this health crisis are still advisable:
External physical protections,
- access control with card readers,
- alarm systems,
- CCTV surveillance systems,
- security guards,
- computer security.
The only restriction for the implementation of these measures, in particular with regards to data protection, is to respect the RGPD standards to inform staff of the implementation of such security systems.
If you wish to set up this type of solution, we invite you to fill out our office security systems quote request form. You will be put in touch free of charge with service providers who will send you proposals tailored to your needs!
Discover more Business Alarm Systems questions :
Technology/Functionality – frequently asked questions :