What are the types of merchant services?
Discover the most frequently asked Merchant services questions
What kind of card payment terminals are available?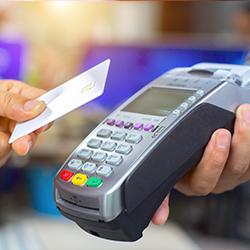 Many different credit card payment terminals or credit card machines are now offered by a variety of card payment terminal providers.
Main differences between card machines types can be found in how these terminals operate, how they connect to the point of sale system, what kind of payment methods they accept... For all these reasons, it's difficult to say that there is a "best" card payment terminal, in fact, for any given retailer, the best terminal is the terminal which best match the needs of his or her customers.
Any serious attempt to compare card payment terminals aimed at selecting the best equipment should therefore start with an in-depth study of customer habits, in relation to the business nature or shop specifics. It is also recommended to request as many quotes in card payment terminals as possible to make the right choice.
PFill in this form to compare up to 4 quotes:
Here's a summary of the remarkable features of card payment machine types:
Type of card machine

Features

Countertop Card machines

Physically wired to the till by USB or Ethernet,

Various form factors: standalone machine, or separate PIN pad/reader/printer modules,

Cheapest card machines available, from £5 per month,

Best for shops where customers are inclined to pay at a counter, next to the till.

Portable card machines

Connect with a base station wirelessly,

Bluetooth connection allows for a 30-metre range,

Wifi connection allows up to 100-metre range,

Necessarily a standalone form-factor,

Prices from £200 to £600 (new, purchase),

Best for retailers who need to bring payment systems to the customer, within the premises of the shop (restaurants, bars, cafes....).

Mobile card machines

Connect with the Point of Sale System through mobile networks (GPRS, 3G or 4G) and can therefore be used nearly anywhere,

Battery life a key factor,

Prices from £400 (new, purchase),

Best for travelling salesmen, delivery businesses, temporary needs away from shop like pop-up shop, tradeshows, exhibitions etc.

Smartphone/Tablet card readers

Works the same as the mobile card machines except that modem is not built-in, but rely on a connection with a mobile phone to be used as full card machines,

Therefore, the card terminal is modular, and the reader is just one module, may or may not include a PIN-pad,

Prices from £20 (purchase), sometimes even free with merchant services plan,

Can suit any kind of small business, even for in-shop use with the right hardware accessories.

Virtual terminals for card payments

A piece of software, used to enable credit card payments on an e-commerce website,

Needs to be somehow separated from shopping cart software,

Almost always rented out as part of a merchant services package.
Discover more Merchant services questions :
What are the types of merchant services? – frequently asked questions :