COMPARE QUOTES FOR A PROFESSIONAL COFFEE MACHINE
A New Machine Costs As Little As £1 A Day
Rent Yours from As Little As £1 Per Day!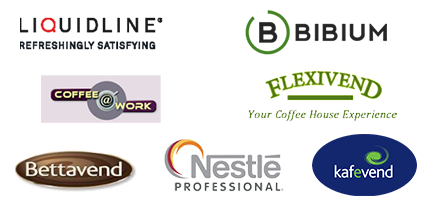 Coffee Machines: Best UK coffee vending machine suppliers
Reading time: 2 mins
Finding the best coffee machine supplier is an important business decision, so it would be best to carry out a little research into the market to compare the best products, services and prices. Grab yourself a coffee and let's get started.

Best UK coffee machine suppliers
Some of the leading UK coffee vending machine suppliers are:
Kenco Local. Not just one of the most loved coffee brands in the world, Kenco Local is a hot drinks vending specialist too. As you would expect, they offer an impressive range of high quality specialty coffees in a number of formats (single sachets, cups etc.) along with teas, hot chocolates and decaffeinated coffee. So whether you are after a free standing vending machine or a small table top coffee machine, Kenco Local can offer you a local service with the backing of a national market leader.
Café Point is a top coffee machine supplier, trading primarily in London and The South East. They have a long history of supplying tailor-made vending solutions to both large and small businesses (with an impressive client list). Café Point distinguishes itself through its focus on personal and local service, whilst still offering high quality coffee machines.
Klix are the UK's largest in-cup hot drinks vending supplier, serving around a billion cups per year. They pride themselves on being a 'one-stop shop' where machines, supplies and a fully managed service are just a quick phone call away. They stock a variety of brands such as Nescafe, Galaxy Hot Chocolate and PG tips and their ranges include soups and cold drinks.
Selecta are a top European coffee machine supplier, with a strong presence in the UK and local teams working throughout the country. They specialise in quality coffee services, such as bean to cup coffee machines and café style hot drinks, offering the best European quality coffee and stylishly designed machines.
Kafevend are a trusted UK coffee machine supplier offering many makes and models such as Flavia and Klix, over rental, lease or purchase agreements. They can arrange for consumables and ancillary products to be included in your package, as well as provide good deals on water coolers and snack machines.
How do you know which supplier is the best for you?
As with all business purchases, you want to know that your vending machines suppliers can offer you a personal service with bespoke coffee vending machines at the right price. And that an excellent working relationship can be maintained for many years to come. Do read reviews, testimonials and client lists and seek out numerous quotes. You can start with the firm on this page, which will return up to four free quotes in less than 48 hours.