Tips for choosing the right copiers and printers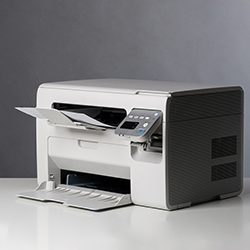 Nowadays, fax machines are still widely used in offices, appreciated for their low cost, their simplicity of operation, and the fact they allow home users or business owners to exchange documents, for instance hand-signed paperwork, in an instant. The price range is as wide as the model range, therefore it's important to assess your needs and determine which type of fax machine will be best suited to you.
For businesses of all sizes, laser fax machines are generally the most popular models. In most cases, the fax facility is optionally added to a multi-function printer (MFP) which can already scan, copy and print documents. Therefore, the MFP's scanner is used to digitize the sent faxes, and the printer processes the received ones.
Laser fax machines use toner to print documents, which means most models are of the "mono" type, meaning black and white only. However, colour models exist, but they're more expensive. In general, laser MFPs are mid-range to high-end machines, with prices usually between £200 and £500. They are more expensive than inkjet units, but toner is cheaper than replacement ink cartridges, which means that in the long run and for large volumes of documents, laser fax machines are a better choice.
Fill in this form to compare up to 4 quotes:
Laser technology enables fast printing, of at least 20 pages per minute, with average to good image quality. Perfect for most companies, laser fax machines are appreciated for their reliability and versatility. For instance, if you use a VOIP service and online faxing, they will even be able to wirelessly receive any incoming fax from a computer or another connected device.

What are the essential criteria for choosing a photocopier?

Should I buy a colour or a black and white photocopier?

How are photocopiers reconditioned?

What are the latest advances in printer-photocopier technology?

Where should a photocopier be placed?

Do you have any tips for reducing printer ink consumption?