Tips for choosing the right copiers and printers
Discover the most frequently asked Copiers and printers questions
What are the essential criteria for choosing a photocopier?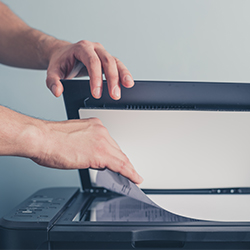 Choosing a photocopier may quickly cause headaches, given the number of models on the market, but also the different types of "managed printing services" plans, tailor-made for businesses.
Several criteria, related to the price of the photocopier or the features of the photocopier or printer, may be looked into to compare printers :
- Features needed. Copying, and printing, in black and white only or in colour, with automatic double-sided printing, scanning, faxing are the major features needed in office copiers.
- Speed. Heavy-duty copiers may print or copy up to 100 pages per minute, but this comes at a price. Choosing a photocopier with 20 to 40 pages per minute printing speeds covers most small business needs.
Fill in this form to compare up to 4 quotes:
- Connectivity. How the machine connects to a computer is a key issue. USB connections are purely local, which means the machine can't be shared between several PCs. Wireless connections are preferred for ease of use and installation.
- Autonomous controls. This determines what the user can do without having to use a computer to control the copier. Being able to print (from a smartphone or USB dongle), scan, copy, fax, or send by e-mail, and set precise parameters for these operations without the need for ever starting a PC is a real bonus.
- Size. This may seem so obvious that many prospective buyers actually forget about this point. An office photocopier in the traditional sense is huge and bulky. Small office copiers using inkjet technology like multifunction printers can sit on desks and may have all the same features.
- Price. If heavy-duty copiers are needed, price may be an obstacle. Prospective users may then look into rental or leasing plans offered by many specialist providers.
- Leasing/rental plan conditions. If a leasing or rental plan is selected, it's essential to understand all the conditions and read all the fine print of the contract.
- Cost per page. The price of the machine is one thing, but it doesn't tell how much copying and printing duties cost. Cost per page includes the cost of all consumables, maintenance and accessories needed, and a basic is rule is that the cheaper the printer is, the more expensive the cost per page gets. The most important tip for choosing a photocopier is to check the price of toners or ink cartridges before buying any machine.
The best advice is to compare as many quotes of photocopiers as possible from several suppliers. Companeo helps you just do that by transmitting your requests to the best suppliers on the UK market. And it's free!
Discover more Copiers and printers questions :
Tips for choosing the right copiers and printers – frequently asked questions :