Tips for choosing the right copiers and printers
Discover the most frequently asked Copiers and printers questions
What are the latest advances in printer-photocopier technology?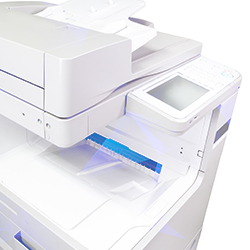 Copier and printer technology has gone a long way since Gutenberg and while inkjet and laser are not really new printing technologies (both have been invented in the 1960s), the industry certainly hasn't stopped moving forward.
As far as home and light professional use printing and copying is concerned, the current trends in copier and printer technology developments are related to:
- Touchscreen control panels – More and more printers and copiers are controlled just like smartphones, via touchscreens. These touchscreens are getting more and more complex, giving access to always more features and settings. In fact, they're more and more like actual smartphones attached to the printer or copier and they're making computers irrelevant to control any printer operation. Eventually, just like TVs, copiers and printers won't have a single physical button anymore.
- Mobile printing – Printers need to be operated from literally anywhere now. Not only is it possible to print any contents in the memory of a smartphone, without having to use any computer in the process, distant printing has become easier than ever.
- Cloud printing – Cloud printing means printed or copied files are actually stored online. There again, the use of a computer to retrieve these files and have them printed is becoming increasingly irrelevant.
- 3D printing – The popularization of 3D printers mean they may become affordable for any kind of company in just a few years time. More and more applications useful for any company are being found, such as the printing of furniture for trade shows, models, replacement appliances and machine parts...
- Always more connection types – and if possible, without any cable. Wireless printers , accepting Bluetooth, Wifi but also RFID, Contactless, Cloud printing are taking the market by storm.
Fill in this form to compare up to 4 quotes:
Industrial photocopiers and printers are more concerned by new printing technologies. Digital print technology, with print-on-demand for large projects (books, fliers, commercial brochures, publishing, cartons, direct mail, transactional material...) is more and more replacing offset printing.
Hybrid print technologies (such as computer-to-print plate automation) and newer printer industry software are being used to help bridge the gap faster.
Digital Inkjet Printing in particular represents the future of printing technologies. It enables extremely fast inkjet printing, directly onto offset coated stocks if needed, with high-end colour printing quality, suitable for projects in the field of fine arts.
Discover more Copiers and printers questions :
Tips for choosing the right copiers and printers – frequently asked questions :