Tips for choosing the right copiers and printers
Discover the most frequently asked Copiers and printers questions
Should I buy a colour or a black and white photocopier?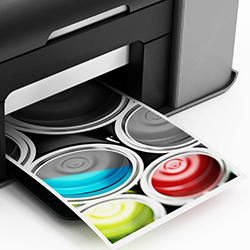 As far as document reproduction is concerned, most companies only need black and white. When memos or other documents for internal use are photocopied, a colour photocopier seems superfluous. Moreover, colour units are significantly more expensive than their monochrome counterparts, so if you consider the purchase of a new copier, it's important to determine if you have any need for a colour photocopier in your company, or at home.
In the world of multi-function printers (MFPs), two technologies exist for colour printing: laser or inkjet. Laser is generally the standard solution for black and white units, and inkjet is preferred for colour documents. As a matter of fact, inkjet technology is perfect to copy pictures, or print photographs, in colour and with a very good resolution. However, printing is understandably slower in colour than in black and white, all the more so with inkjet technology. Finally, while inkjet units are generally cheap to buy, replacement ink cartridges are quite expensive, and will represent a significant expense.
Fill in this form to compare up to 4 quotes:
Laser colour photocopiers are faster, toner is less expensive than ink, even in colour, but the machines themselves are quite expensive. Unlike inkjet models, laser units can process large volumes of colour documents daily, with consistent speed and quality. To put it simply, inkjet MFPs are perfect for home use or small businesses, while laser ones are the choice of larger companies or copy professionals.
Although you will find desktop colour copiers for as little as £150, they'll be only suitable for home use. Most colour MFPs cost between £2,500 and £4,500. Therefore, buying a colour photocopier is only necessary if you process large volumes of specific colour documents, such as brochures, flyers, or marketing material. If most of your printing needs are for text only, or internal use, a black and white model will be cheaper.
Discover more Copiers and printers questions :
Tips for choosing the right copiers and printers – frequently asked questions :