The different types of copiers and printers
Discover the most frequently asked Copiers and printers questions
Inkjet or laser: how to make a comparison of printers technologies?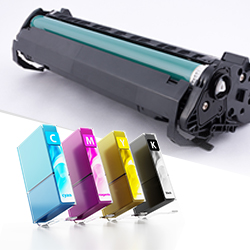 The laser printer VS inkjet printer debate has been going on for decades and answers have never been so confusing.
Results of a comparison between printers using inkjet technology and printers using laser technology largely depend on the print job, that is, what it is users will most often print with the printer – and how much of it will be printed.
This simple criterion actually breaks down into five factors when making a comparison between printer technologies:
- Initial Price. Quite surprisingly, when one compares laser printers with inkjet printers , the price difference is not really significant anymore. The price of laser printers has come down quite significantly and in 2019, some inkjet printers and laser printers can be found at the same price – colour laser printers are still a little bit more expensive though.
Fill in this form to compare up to 4 quotes:
- Cost per page. Ongoing costs still tell a very different story though, with toners lasting much, much longer than ink cartridges while they don't cost that much more, making laser printer more economical.
- Size. Size does matter in cramped offices. The smallest laser printers, even tabletop models, still use about 30 % more place than inkjet printers – and at this size, they offer weaker performance in some areas.
- Printing speed. There's another surprise here: laser printers are no longer necessarily faster than inkjet printers. In fact, the cheapest multifunction laser printers, which price is on par with multifunction inkjet printers, will usually be slower than these multifunction inkjet printers. High-end laser copiers can however print at speeds up to 90 pages per minute, which is still double than the best inkjet printers in that respect. However, such super fast laser printers are in a totally different league in terms of price.
- Printing quality. That's where what you print becomes really the key. In 2019, laser printer still beat inkjet printers for plain text and simple business graphics like charts or tables, because the printing is sharper and does not bleed: it's almost instantly dry. However, the difference between inkjet and laser is still also quite important when it comes to printing complex, colour graphics and photos, and inkjet still does a better job.
We advised you to ask several quotes in laser and inkjet printers to make a thorough comparison of the pros and cons of both types of printers.
Discover more Copiers and printers questions :
The different types of copiers and printers – frequently asked questions :