The different types of copiers and printers
Discover the most frequently asked Copiers and printers questions
What's the difference between photocopiers, printers, MFDs and MFPs?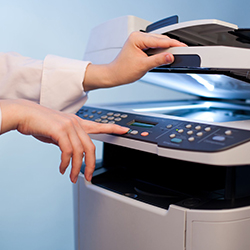 The office space used to be quite simple: there were printers to print, photocopiers to copy, scanners to scan, fax machines to send or receive faxes... The introduction of versatile, standalone machines, together with the zeal of some marketers made it awfully difficult to know which type machine exactly does what... as all pretend to do everything. In the end, business users can't really tell which is best: photocopier or printer with copier features.
The difference between printers and photocopiers has been blurred, as multifunction printers can also be copiers and photocopiers connected to a computer can also be used as printers.
Fill in this form to compare up to 4 quotes:
It's even more complicated to tell the difference between "MFPs" and "MFDs", as both refer to multifunction machines. Indeed, these acronyms stand for "MultiFunction Printers" or "MultiFunction Devices", respectively. The term " MFD printer " is even used to refer to "MultiFunction Device Printer", which basically means... MultiFunction Printer!
However, the following distinctions can be made:
- MultiFunction Printers are small, tabletop printers with copier and scanning functionalities, but relatively slow printing speeds (less than 30 pages per minute) and paper capacity (about 100 pages); they are mostly sold for home use. Multifunction printers for small businesses however do make sense and as long as these MFPs have a network connection and a decent capacity and printing speed, they can be suited for light professional use.
- MultiFunction Devices have the same functionalities but deliver faster printing speeds (up to 90 pages per minute), big document feeders and cassettes (over 300 pages), and sometimes even different paper format support.
- The difference between photocopiers and printers with copy functionality is basically the same as the difference between MFDs and MFPs, respectively. In fact, in many offices, MFDs are simply called "photocopiers"!
Deciding whether to hire or purchase a stand-alone printer, photocopier or a multifunction printing device will come down to costs alongside your specific printing needs. Standalone printers and photocopiers tend to be more robust than multifunction devices, though the latter are often more economical. Which is you should always compare several quotes for photocopiers and printes before making your choice!
Discover more Copiers and printers questions :
The different types of copiers and printers – frequently asked questions :