INVOICE FINANCE:
Stop Chasing your Invoices & Focus on GROWING your Business!
Get Quotes from the UK's Leading
Invoice Finance Providers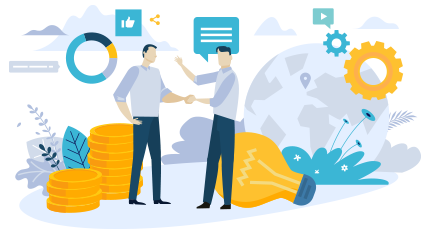 Touch Financial services: brokered invoice finance
Reading time: 2 mins
Touch Finance services differ from those of other financial solutions providers in this guide. In fact, Touch Finance acts as a broker comparing the invoice finance offerings of dozens of financial institutions and lenders, to bring their clients the solution which best matches their needs. The aim of its founder is to bring invoice finance services from the High Street banks to every businesses, making it a mainstream commercial finance product.
Services and areas of expertise of Touch Financial services
Touch Financial services cannot be compared with those of other providers in this guide, as Touch Financial acts as a broker... but they focus on several types of invoice finance products.
Touch Financial, broker of invoice finance services...
Touch financial services, as far as invoice finance is concerned, include factoring, invoice discounting, and confidential invoice discounting.
- Factoring requires minimum annual turnover of £25,000;
- Funding is available within 24 hours;
- Service can be anonymous;
- Discounting can release up to 100% of funds;
- For companies making over £100,000 per year in turnover.
... and of more business banking products...
But Touch Financial services also include the brokerage of many other services useful to their business clients, such as:
- accountancy services;
- trade finance;
- asset finance;
- credit protection;
- business insurance;
- import and export funding;
- commercial mortgages;
- start-up finance;
- debtor finance.
... for businesses of many different sectors.
Financial services provided by Touch Financial, according to the company itself, will be best adapted to businesses within the following industries:
- construction finance,
- transport,
- courier,
- printing,
- manufacturing finance,
- recruitment finance,
- wholesale.
But of course, Touch Financial services will also work for businesses in many other industries.

Background and key figures
Touch Financial was created recently as a new concept within the financial industry.
Touch Financial services, part of the SFP group, giving independent advice...
Touch Financial was set up in 2008 as part of the SFP Group by Simon Carter, who is still the director of Touch Finance. Touch Financial does not lend or pay money to businesses looking for invoice finance services like RBS, Barclays, Hitachi Capital, Metro Bank, Lloys, Bibby Financial Services, Aldermore, Santander and the other banks in our guide do. No, they select among the products offered by these very lenders the one that will be the best match for their clients. Although it is part of the SFP group, which provides a wide range of other services to businesses, accountants and lenders, Touch Financial claims to give completely independent advice. SFP styles itself as a "Nationwide corporate recovery and business turnaround specialist".
More about the SFP group
The parent SFP group is based in Canary Wharf, London, employs 60 staff, and is very active in overseeing business liquidations. SFP proposes a radical alternative: rather than funding your receivables gap, they find the lenders who can do it for you. Their promise is that not only do they find a better deal, they find it quicker, and they explain it better - including the fine print that many lenders won't spend too much time on.