INVOICE FINANCE:
Stop Chasing your Invoices & Focus on GROWING your Business!
Get Quotes from the UK's Leading
Invoice Finance Providers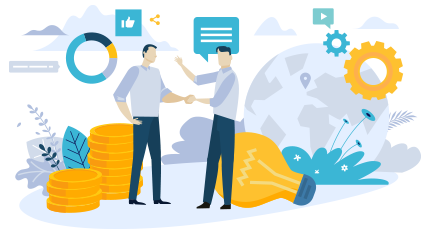 IGF invoice finance
Reading time: 2 mins
IGF invoice finance is provided by IGF, a commercial banking pure player. Although IGF started business only recently, it has grown to be a respected provider of commercial banking products, centred around its invoice finance products. Small and medium enterprises are the core concern of IGF, as well as that of the Greater London Enterprise group, IGF's parent group.
Services and areas of expertise of IGF invoice finance
IGF is a specialist of receivables finance, and has logically extended its service range to other closely related commercial banking products.
IGF, invoice finance...
With IGF, businesses can enjoy both factoring and invoice discountin g services:
- Both types of services cover up to 90% of invoice value, including existing debts, in advanced funding;
- Both are open to businesses with turnovers of at least £100,000;
- Factoring includes credit control and collection services;
- Factoring is tied up to a minimum 12-month contract period;
- Invoice discounting services are kept confidential;
- Single invoice finance, for up to 80% of this invoice's value.
... and more business banking products.
Other services provided by IGF include:
- bad debt protection,
- commercial development loans,
- debt recovery,
- direct debit service,
- payroll service.

Background and key figures
IGF invoice finance Limited is part of the GLE group, an interesting business focusing on SME growth, through finance, property development and other initiatives.
IGF Invoice Finance is managed by a dedicated company...
IGF invoice finance limited is part of the IGF group, which also comprises Independent Growth Finance Ltd, IGF Asset Finance Ltd, IGF Payroll Services Ltd and IGF Commercial Finance Ltd.
Publicly owned but independently run, the invoice finance company was founded in 1997, and is 97% owned by the Greater London Enterprise group, the economic development and investment business of the London Boroughs. Being a relatively new player in the market, IGF tries to position itself as a provider of innovative, hassle-free solutions, "providing fair finance that supports small and medium sized businesses, helping them grow".
... part of Greater London Enterprise group
Only the parent group, GLE, publishes figures which help understand IGF's reach and actual economic weight. Although the numbers look pale compared with super banks providing all kinds of banking services, they are quite respectable for a pure player. Please bear in mind that the following figures are for IGF only, not the GLE group:
- 300 employees,
- 220 SME clients,
- £305m advanced to these small and medium enterprises, the majority of which through invoice finance operations,
- £38,982,759 worth of trade receivables factored.
Through its offering, corporate culture and history, IGF invoice finance is clearly focussed on small and medium enterprises, an on receivables finance. It's one of the very few players to dedicate a company to invoice finance, and to propose alternative products such as single invoice finance.