INVOICE FINANCE:
Stop Chasing your Invoices & Focus on GROWING your Business!
Get Quotes from the UK's Leading
Invoice Finance Providers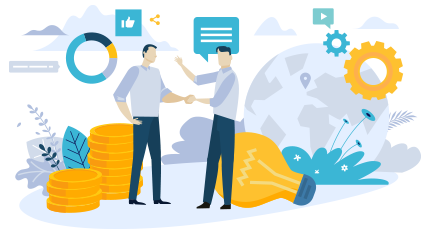 Market invoice - the financial services provider
Reading time: 2 mins
Market invoice is an innovative, fast growing provider of financial services known for their invoice financing services, founded in 2011. Market Invoice's promise is to offer hassle-free factoring finance to tech-savvy business clients, as everything is done through an online platform. The company only provides factoring services, and they do it in a very "new economy" kind of way, but are they reliable? What figures can the firm put forward?
Market Invoice company background and services
While the firm started business only recently, and only provide factoring services, its track record, and that of its founders, make it a credible choice.
A fast growing newcomer...
Market Invoice was founded in 2011 by Anil Stocker and Ilya Kondrashov, two young entrepreneurs, but also by Charles Delingpole, a former investment banker at J.P. Morgan Cazenove. Investors include Northzone and Paul Forster, who invested £5,000,000 into the company back in 2014.
Since its inception, the company has helped hundreds of businesses secure reliable cash flows, funding over £450,000 in factoring arrangements.
... strictly specialised in factoring
Market Invoice does factoring, and nothing but factoring - it does not do invoice discounting.
But they do it in an innovative way: their clients register on their online platform, and within 15 minutes after they have applied, if they are approved, they can upload the invoices they want help with. Invoices are verified automatically by the firm's own technology, and invoices are traded by Market Invoice. This means client businesses can get their money within 24 hours.

Key advantages
The firm is a quickly growing internet pure player which aims to open up factoring to companies put off by the bureaucracy or stringent conditions of larger, more established financial services provider.
Market Invoice is an innovative...
The firm chose an all-online model, where all clients can do all their operations on their computers.
MarketInvoice claims to seamlessly integrate with well-known accounting software, such as Sage, KashFlow and Xero, so that businesses can get started in minutes, and start selling their invoices faster, and more easily.
... hassle-free...
Ease of use is indeed the key trump car of Market Invoice, not only in practical terms, but also in contractual terms.
The company claims to be very welcoming for all kinds of clients, and boasts that 90% of applications it receives are approved. Contrary to many factors, they accept applications based on a limited number of conditions. Companies willing to use their services only need to:
- Be registered in the UK or Ireland as a limited or LLP company;
- Report at least 6 months of trading history
- Have filed a turnover of at least £100,000 with Companies House;
- Sell goods or services to other companies on terms.
... and economical factoring provider
Finally, the company claims to be a relatively economical solution, with a cost calculator transparently evaluating costs on their platform. The company claims that its factoring service, for £100,000 worth of invoices, will charge total fees of £1,800.