INVOICE FINANCE:
Stop Chasing your Invoices & Focus on GROWING your Business!
Get Quotes from the UK's Leading
Invoice Finance Providers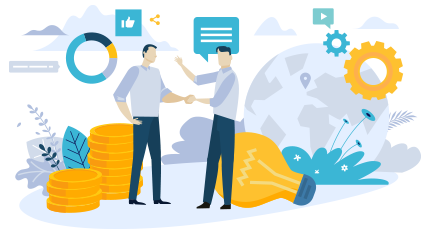 HSBC invoice finance
Reading time: 3 mins
HSBC invoice finance is one series of receivables finance products offered by HSBC, a well-known universal bank in the UK and abroad, providing nearly every conceivable banking product, to individuals and businesses. Indeed, the international business culture of the bank dates back to its inception, as the Hong Kong and Shanghai Banking corporation. And as receivables finance lays at the heart of international trade, HSBC invoice finance greatly benefits from this legacy.
Services and areas of expertise of HSBC invoice finance
Invoice finance may take many forms at HSBC, a bank which can offer many related commercial banking services.
HSBC, invoice finance...
HSBC allows businesses to:
- Receive cash against outstanding invoices;
- For up to 90% of the submitted invoice value, the next working day in case of factoring;
- In multiple currencies;
- Keep sales ledger and credit management;
- Protect their profits with HSBC's credit protection facility.
The service is provided either on the basis of disclosed factoring or undisclosed invoice discounting. But HSBC's invoice discounting means the business's clients have to pay in to a designated account.
Conditions limit the eligibility to businesses forecasting sales of at least £500,000 per year, established for three years or more, and impose audits. HSBC also mentions that they will take legal "such legal action as (it) considers appropriate" to recover end-client debts, and "will usually let (invoice discounting customers) know before we start any formal legal action to recover a debt".
... and more business banking products.
HSBC also proposes export invoice finance, asset financer, business growth fund, business overdraft, commercial mortgage, enterprise finance guarantee, small business loans...
But their trump card really is about trade finance, with full service covering letters of credit, foreign exchange operations, exports and imports protection, bills for collection and even clearing.

Background and key figures
HSBC invoice finance is just one of the many services proposed by HSBC, but it's on that lays very close to the roots of the company, and continues to fuel its growth.
HSBC invoice finance, a service of "one of the world's strongest banks"...
The Hong Kong and Shanghai banking corporation was founded in Hong Kong, then a Crown colony, on March 3rd 1865. Britain-based subsidiary was only created some weeks later, in 1865, Birmingham, as was the Shanghai subsidiary.
Today, it serves around 48 million customers of 72 countries, with 6,100 offices worldwide in four continents, through its four main lines of businesses: Retail Banking and Wealth Management, Global Banking and Markets, Global Private Banking, and of course Commercial Banking.
... one of the biggest global players in the market
The bank published the following relevant figures:
- Stock exchange listings in London and Hong Kong, but also Paris, New York and Bermuda,
- £102.7 billion of market capitalisation in London, the second-largest on the London Stock Exchange,
- more than 260,000 employees worldwide, of which
- 85,000 in the UK
- 1,100 branches in England and Wales,
- 4,750 branches in 50 countries,
- of which 1,600 in the United Kingdom,
- $1,143bn of assets, of which
- $430bn in commercial banking
- $927,428bn of loans to personal and corporate banking customers,
- the only top-5 British bank to hold more deposits than loans
Businesses interested in HSBC invoice finance will get their foot in one of the world's biggest baking behemoths. Fortunately, trade finance, and therefore logically receivables finance, is literally the DNA of this banking corporation.