INVOICE FINANCE:
Stop Chasing your Invoices & Focus on GROWING your Business!
Get Quotes from the UK's Leading
Invoice Finance Providers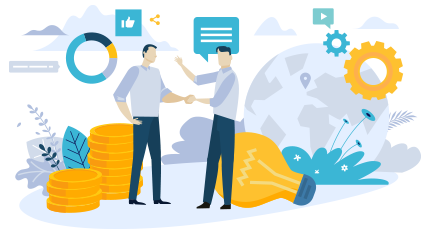 Bibby Financial Services
Reading time: 2 mins
Bibby Financial Services is a major provider of various financial services for business of all sizes, with a particular focus on invoice financing, founded in 1982. Services range from invoice discounting to trade finance and purchase funding, including various factoring options, lease finance and export finance. Industry-wise, the firm also showcases specialist finance services for the construction and recruitment sectors.
Services and areas of expertise
While the firm brings forward a solid expertise in factoring, their range of services extends to many other funding options that companies from all industry sectors might need, especially when working with international suppliers or clients.
Receivables finance...
Bibby Financial Services offers a full range of factoring services:
- Invoice discounting, by lending cash hedged by the client's invoices, for up to 100% of the funds. The client keeps control of the administration of his debtors, and is protected against customer insolvency by Bibby's "bad debt protection".
- Proper factoring, by directly purchasing the client's invoices and managing all the debt-collection process, including credit control and sales ledger management
... and more
Bibby Financial Services also provides a complete series of funding solutions to its clients, including:
- Leasing, by buying equipment on behalf of the client, who pays monthly instalments to use the said equipment,
- Hire purchase, which transfers actual ownership of the goods to the client after the instalments have been paid,
- Refinance, to help improve cash flow by cutting on third party hire purchase or lease finance agreements,
- Export finance, enabling clients to raise working capital up to £ 10 million against export invoices raised, while the goods are being shipped to the client, cleared by the customs, and international payments fully processed,
- Trade finance, which might be needed in the reverse situation: financing the finished or unfinished intermediate goods needed for production by the client.

Background and key figures - Bibby Financial Services
The firm is an already well-established financial services provider with significant reach and customer-base, in a great variety of industrial sectors, for high-volume transactions.
Bibby Financial Services is a well-established provider...
Founded in 1982, the firm is still a privately-owned, and is a fully-fledged member of the Asset Based Finance Association (AFBA).
The firm prides itself with several awards such as a place in the 100 Best Companies to Work For, published by The Sunday Times, in 2011, 2012, 2014 and 2015.
... handling significant business.
The following key figures give an idea of the firm's market penetration:
- 19 local offices
- £ 5 billion turnover handled and...
- £ 483 million advanced to...
- 7 000 corporations in...
- 300 industry sectors
Bibby Financial Services is a well-established provider of financial services, which puts forward strong points such as the wide range of services offered, especially with export finance and trade finance, and an expertise on construction and recruitment sectors.