Everything you need to consider before buying or renting a photocopier or a printer
Discover the most frequently asked Copiers and printers questions
Is professional installation included in the cost of acquisition of a printer-photocopier?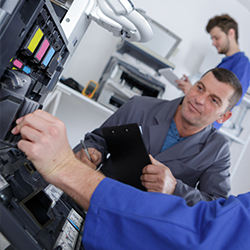 It is always advisable to have new, and expensive, office equipment such as printers and photocopiers installed professionally. Not only will this save you time and hassle, it validates your warranty and contract.
Most printer-photocopier leasing and hire agreements will include delivery and professional installation, and in some cases full training. You can also choose to include servicing and repair as part of your contract. When buying a printer or photocopier outright, there is usually the option of including installation or support, but it might not always be included in the price, so check before you buy.
Fill in this form to compare up to 4 quotes:
Discover more Copiers and printers questions :
Everything you need to consider before buying or renting a photocopier or a printer – frequently asked questions :