Everything you need to consider before buying or renting a photocopier or a printer
Discover the most frequently asked Copiers and printers questions
How much does a photocopier cost?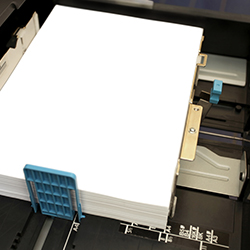 Prices of photocopiers vary greatly depending on a number of factors:
- Printing speeds, in pages per minute (ppm),
- Printing technology (laser copier or inkjet copier),
- Colour printing capability or simply black-and-white,
- Paper management features (how many pages can fit in the trays and magazines, what formats of paper are supported, features such as binding and stapling)...
But before asking "how much is a photocopier?" and starting to compare photocopier prices, the first question one should ask is " what is a photocopier? ". Indeed, if basic copy function is needed, multifunction, tabletop printers can be defined as cheap photocopiers.
Fill in this form to compare up to 4 quotes:
Traditional photocopiers are bulky, standalone machines capable of much faster printing and with much more advanced document management features – and these photocopiers cost much more money than multifunction printers.
In the UK, photocopier prices can start at:
- Less than £100 for a basic inkjet multifunction printer,
- Less than £400 for a laser, colour multifunction printer,
- Less than £800 for entry-level, standalone black-and-white photocopiers,
- More than £2,500 for a colour photocopier,
- £20 to £120 a month, depending on the specifications and included service, for a photocopier leasing plan, with ink toners selling for about £50-90.
Here's a more detailed list of photocopier prices by copier type.
Type of printer/copier

Suits the needs of

Price

Inkjet multifunction printer

(under 30 ppm)

Home/office, sole traders

£100-£300

Laser multifunction printer

(under 40 ppm)

Small businesses

£200-£800

Basic standalone photocopier

(under 40 ppm, supports A3 format, large paper compartments)

Small businesses with more than 1,000 copies in monthly printing volume

£800-£2,000

Colour standalone photocopier

(40-50 ppm)

Design studios

£2,500-£5,000

Production photocopiers

(up to 90 ppm)

SMEs with large production volumes (over 5,000 copies per month)

£5,000-£12,000

Heavy-duty photocopiers

(100 ppm and over, special paper formats)

Professionals of the printing industry or professionals with specific needs

£18,000 and over
Comparing as many quotes in photocopiers as possible is a good reflex to make sure you get the right device at the right price!
Discover more Copiers and printers questions :
Everything you need to consider before buying or renting a photocopier or a printer – frequently asked questions :