Everything you need to consider before buying or renting a photocopier or a printer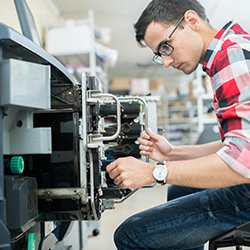 The cost of printer maintenance is an essential part of a photocopier's "Total Cost of Ownerhsip", which gives a much clearer idea of how much a copier actually costs to a user than the sole price of purchase. Naturally, the replacement of photocopier-copier consumables such as ink, paper or staples is part of that cost, but it's not the only one, nor even the more expensive part of that cost.
In the case of a leasing or rental arrangement, users should pay extra attention to review provisions of the printer services contract related to copier maintenance.
Regular copier or office printer maintenance costs include:
-        Toner replacement,
-        Replacement of fuser assembly,
-        Replacement of rubber rollers.
Fill in this form to compare up to 4 quotes:
Exceptional maintenance costs include intervention following potential events such as:
-        Repeated paper jams,
-        Network connection issues,
-        Blank pages,
-        Printer belt problems,
-        Blurred printing,
-        Abnormally fast ink depletion.
Maintenance contracts are therefore often offered with copier lease plans, but it's important to check:
-        Whether the aforementioned possible issues are covered,
-        Whether the price of supplies is covered, or if it has to be purchased on top of monthly costs,
-        The price of these supplies (leasers often charge much more for the same supplies than independent providers),
-        Whether breakdowns will be repaired on site, or if the machine has to be taken away,
-        How fast interventions can be.
Some providers sell photocopiers on hire-purchase, or on credit, with extended warranty schemes which can be interesting to look into in lieu of a proper maintenance service contract.
It's also important to remember that some machines have higher maintenance costs than other, even if the purchase price is lower. Over a few years usage of 5,000 copies per month, a £600 printer may cost over £4,500 more than a £900 printer.
In any case, it's always a better idea to check these prices and conditions by asking for as many detailed quotes for printers and copiers equipment and service plans as possible.
Here's a more detailed list of copier-printer maintenance costs.
Type of maintenance cost

Price

Toner replacement

(excluding labour costs)

£40-£90 per toner (colour copiers usually have 4), every 2,000 to 10,000 pages,

Maintenance kit

(includes fuser assembly and rubber rollers)

£200-£400 every 200,000 to 500,000 pages depending on model

Regular maintenance plan

(includes small parts replacement, customer service calls and toner replacement labour costs)

£10 to £50 per month

Technician intervention labour costs for any issue not covered by service plan

£50 to £80 per hour

 

How much does a photocopier cost?

What is the average price of printers made for business use?

What is a typical price range for a multifunction printer?

What finance options are available for printer-photocopiers?

Is leasing a printer-photocopier better than buying or renting one?

How does an office printer leasing contract work?

What is the VAT rate for renting a photocopier?

Can I be reimbursed for VAT when I buy a printer-photocopier?

How much can I save by purchasing a reconditioned photocopier?

Is professional installation included in the cost of acquisition of a printer-photocopier?

Can I be reimbursed for recycling an old printer-photocopier?