Everything you need to consider before buying or renting a photocopier or a printer
Discover the most frequently asked Copiers and printers questions
What finance options are available for printer-photocopiers?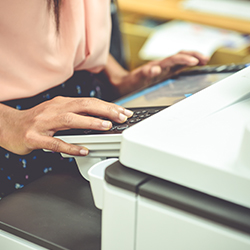 Printers and photocopiers can be very expensive pieces of office kit, so it is good to know what finance options printer-photocopier suppliers offer, in order to help you afford the right equipment for your business. Leasing is the most common solution and allows you to spread the cost of a new machine over predictable monthly payments.
Contracts are usually taken out for 2-5 years, although day and short term rental is possible with some suppliers. Consumables and servicing can be included and you can usually choose to upgrade the machine at the end of the lease or buy outright for a vastly reduced price. With some hire agreements, the equipment is automatically yours at the end of the repayment period.
Fill in this form to compare up to 4 quotes:
Discover more Copiers and printers questions :
Everything you need to consider before buying or renting a photocopier or a printer – frequently asked questions :